The Best Farmhouse Laundry Room Decor Ideas To Keep Your Laundry Space Warm
Farmhouse style has a charming and warm look, it features light colours and various wood finishes. A farmhouse room brings the touches from the good old days which are peaceful and comfortable. When designing a farmhouse space, people usually focus on the main areas such as the living room, bedroom, kitchen room or garden. However, it is important to have a house in which every square has the farmhouse breath. Therefore, if you have a laundry room, do not hesitate to decor it too. Hereunder, we suggest you some great farmhouse laundry room decor ideas that could turn your space into a nice contrast with impression and inspiration.
It is not difficult to decor the laundry, in contrast, all you need is just the colours of the wall and floor as well as the ceiling. Moreover, laundry wall art is important in the farmhouse style meanwhile it is simple to choose and place. The main materials in farmhouse style are wood, metal in an old look, rustic and chic create the charm of the space. Besides, it is important to choose the tiles of the wall. It impacts the look of the entire space and determines the success of a farmhouse design. Keeping them in mind, these suggestions can help you out!
Farmhouse laundry wall art
One of the most popular and easiest ways to turn a space into a farmhouse look is to use wall art. It is not difficult to refresh your washroom with these laundry wall decor ideas. Let's get ready!
$69.95 And Up From Benicee Shop
This "Fluff & Fold" sign is a cute laundry wall art to add to your space. The white wall combines with black soften letters to create a comfortable and relaxing feeling. With the wooden shelf above the washing machine, you can place some simple canvas related to the washing topic. "Wash, dry, fold", "Fresh and Clean" so many more.
$59.95 And Up From Benicee Shop
If you are doing laundry service, this is a great idea for your washroom wall art. These laundry room wall decor ideas mix farmhouse laundry facilities (hangers, vases, baskets), which simply stand out in your space. They are not only a farmhouse laundry decor idea but also an instruction for customers using your service.
$69.95 And Up From Benicee Shop
A nice schedule to using the washing room may be needed for you if you have teenagers or old people at home. It is even better to use if you have a laundry schedule. Simple icons in the laundry wall art are similar to the ones on the machine so that it is easy for users to understand the procedure of washing.
$59.95 And Up From Benicee Shop
If you are looking for laundry wall decor to show the rules of the washing room, this is a good idea. The rules are stated in the mainboard that is placed at the centre, surrounded by others with impressive illustrations.
Farmhouse laundry room decor with classic white tiles
Source: monikahibbs.com
Classic white tile is one of the most popular materials in farmhouse design. The spectacular white subway tile wall brings a simply classic beauty to your washroom. It does not need all the walls in the room covered by white tiles but one side is great. You can add wooden industrial shelving to gain stylish. Moreover, it helps to organize the room tidier.
Wooden shelf adds the rustic charm to the laundry
The shelf is an essential element in the laundry as it is convenient to place stuff and easy to clean.
This ladder shelf needs a laundry room with a ceiling to have a perfect farmhouse look. It saves space when you can utilize every inch of your space. It is an indoor drying rack for all clothing pieces, especially if you have babies or kids in the family. The convenience is this ceiling shelf has the hangers already that you can hang your clothes directly.
DIY laundry room shelves
Source: tarynwhiteaker.com
It is necessary to hide detergent powder, fabric softener away from children for safety. Therefore, this shelf is a suitable design for your laundry if you have kids at home. The dark wooden boards and the metal frame are the impressive farmhouse laundry room decor. If the shelf has enough space, you should decor it with a vase of flowers to bring nature to your room.
Source: vintagerevivals.com
This is a great idea to decor the laundry room with a wooden shelf. It is low enough to have a large space of the wall behind the washing machine to make the room look larger. The rustic wooden slab works perfectly for a farmhouse space. Furthermore, the grey wall adds more farmhouse appeal to the washroom.
Tips to choose washtub for a farmhouse laundry room decor
The washtub is an essential part of the laundry room. Furthermore, it is easy to the decor in a farmhouse style.
This metal washtub is a great idea to decor your room. It is an oversize one with constructed galvanized metal. This look adds a farmhouse touch with all the convenience of the room. It can combine with wooden shelves in dark colours or wall art or metal spigots.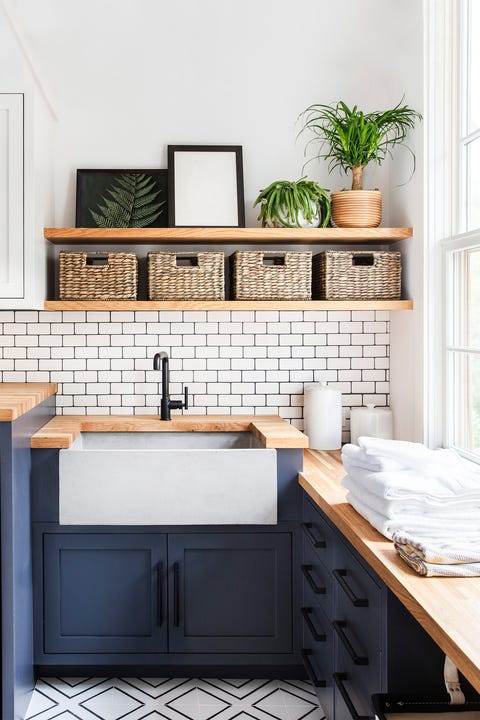 Washtub for a farmhouse laundry room decor
Source: goodhousekeeping.com
This farmhouse laundry decor is suitable for a modern space. The bamboo laundry baskets add farmhouse charm to the room. You can use it with white linen or cotton fabric for a nice look.
A clean white linen laundry lights up your house
It is interesting to create a laundry lounge in your home. It is a unique idea for a farmhouse laundry room decor, especially, it brings a clean and crisp feeling to the space as your linens. The wall is painted in white with shelves and cupboards are in white too. It is a perfect place to add some letters in black as an accent of the space.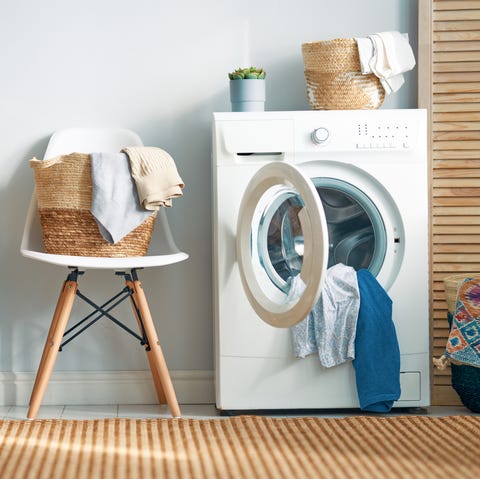 Source: goodhousekeeping.com
Moreover, the glass jars on the shelf bring charm to hold the detergent and clothespins to make the wash room look tidier. With the cupboard, there is more space for you to store necessary things for washing activities. And a plant will bring nature into the space to make it fresher and harmonized.