The Best Farmhouse Kitchen Wall Decor Ideas To Refresh Your Cooking Space
Decorating the kitchen is more important than what most people think of it. A kitchen can be small or large, it is the hub of the home. Meals full of love from parents for their children are made here. The happiest moments of family gathering together happen here. People say that while life may be created in the bedroom, it is certainly lived in the kitchen. Therefore, if you are hesitating to decorate your kitchen, let's do it. The suggestions below can help you find out the most suitable farmhouse kitchen wall decor.
Prayer sign – Putting more love with the most farmhouse kitchen wall decor
The kitchen is one of the warmest spaces in your house, with the living room. It is where your family gathers in every meal to share the love and the day. Moreover, cooking together is a way to share care and love among the members. Therefore, it is necessary to put more love and care into this space. You can do it by putting some prayer signs which are one of the most farmhouse kitchen wall decor items.
$56.95 And Up From Benicee Shop
These prayer signs can be made by yourself with simple and reused materials at home. Or you can find it easily on the Internet to order. There is a variety of designs you can choose from to ensure it can fit your own kitchen style. A prayer sign can be a canvas, wall art or simple wooden pieces with painted letters on it.
 $56.95 And Up From Benicee Shop
 $56.95 And Up From Benicee Shop
It is a cool idea to put this sign on the kitchen cupboard or shelf or table as a reminder of love and sharing. This simple but meaningful sign fills a bit of love for your kitchen.
These are some sentences you can use as kitchen wall decor:
"Bless the food before us, the family beside us, and the love between us".
"It's warm, it's kitchen, and breakfast is ready".
"Thankful, grateful, blessed".
"Kitchen is heart of the home"
"This kitchen is seasoned with love".
"In this kitchen, we do it all with love".
These sentences on your kitchen wall will embrace the upcoming meal with a touch of love and peace.
Farmhouse kitchen wall decor ideas with clocks
Clocks are not only a practical item to remind you about time but also a decorating element in the house. If you are looking for a farmhouse kitchen wall decor idea, using a clock may surprise you.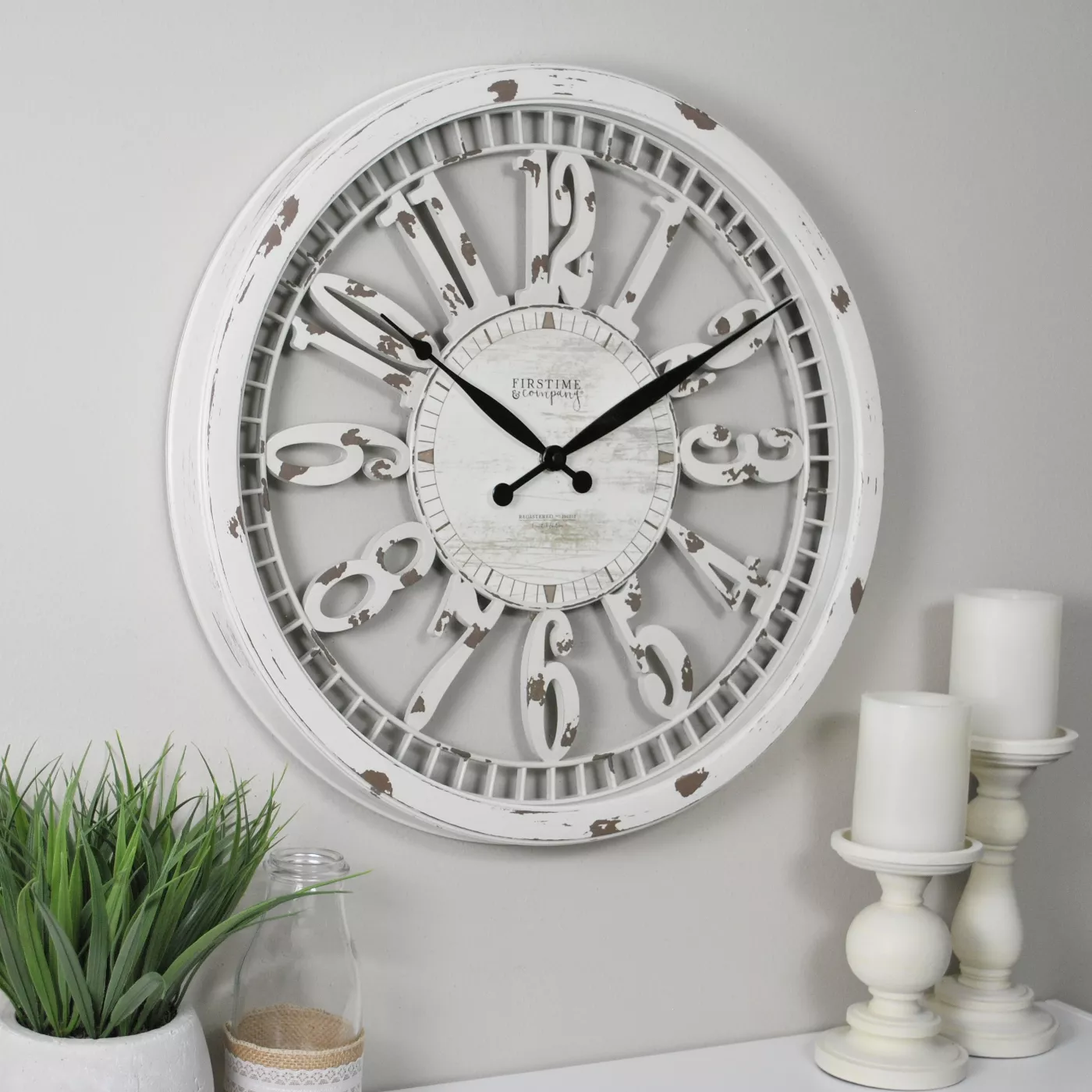 Rustic Kitchen Clock Wall Decor
Source: target.com
This rustic clock is the best choice for your farmhouse kitchen wall. It looks old, simple but artistic so that it becomes an accent for your cooking space.
The chic beauty of this clock is unique and impressive due to its colours. You should place it in the position that people sit at the table can look at it easily.
Wall art for kitchen – The most popularly farmhouse kitchen wall decor
A farmhouse kitchen needs canvas as an essential rule. In addition, the canvas for the kitchen in this style must be a farmhouse one so that it matches the entire space. A farmhouse canvas can be in many themes, including the field, the yard, the warehouse, the garden, the shelves, old stuff and many more.
$56.95 And Up From Benicee Shop
There are so many different designs for kitchen wall art. It can be a canvas frame with letters or a multi-panel one. You can also use the picture of food-related or cooking-related patterns to add more colours to your kitchen.
$66.95 And Up From Benicee Shop
This multi-panel wall art with food-related quotes will be a great idea to decor your kitchen wall. It is simple enough to not mess the wall up, but impressive enough to stand out your style.
If you're looking for bright wall art to brighten up your cooking space, these designs could be the right choices. They are designed in a modern farmhouse style, combining the kitchen utensils with the old window background to create a harmonious canvas, suitable for many kitchen spaces.
$66.95 And Up From Benicee Shop
This idea will perfectly fit with a farmhouse kitchen style. The words are not much but meaningful. The design is simple but looks cosy. The most important is the dark tone with wooden material brings a warm but cool vibe.
These designs bring more colours to your kitchen with an elegant look. It is the best fit for modern kitchen design.
Rustic wood wine shelf – Practical decor item for your kitchen
On some special occasions, you need wine to make the meal perfect. Therefore, it is necessary to store some wine in the kitchen. Let's take it as a chance and have a wine shelf as your unique kitchen decor item.
Wine rack - DIY
Source: shanty-2-chic.com
A rustic wine shelf is a good choice for your farmhouse kitchen. It generates a simple but charming look that makes you feel warm and friendly. You can add a board on the shelf with some funny, meaningful quotes or just simply note that is a wine shelf.
Fun farm and garden signs for a colourful kitchen
You are redesigning your kitchen and you want to put more colours to make it brighter but remain the farmhouse and vintage look, this will inspire you.
$56.95 And Up From Benicee Shop
Simple and small signs describe food-related topics such as fruits, meat, vegetables with colours that will light up your kitchen. Moreover, adding some words to play with it can create a funny corner to your cooking space.
These signs are suitable for a farmhouse kitchen, or a vintage space. As it should be exposed in the painting background to create a stylish look for the sign. If you want to use this idea for your modern kitchen, you can put it in the canvas frame in a different material.
$66.95 And Up From Benicee Shop
The kitchen is usually forgotten when designing a house. However, its role is crucial to the spirit of the house when all family members spend time together in this space more than anywhere else. Additionally, it is where the reunion happens during special occasions or holidays. Therefore, it is important to design your kitchen in such a way to show love and care. Those farmhouse kitchen wall decor ideas do not cover all the best ideas but should be a great inspiration for your kitchen redesigning motivation.