8 Best Funny Bathroom Art Decor Ideas To Refresh Your Bathroom
You are decorating your house impressively with different stylish elements and it looks perfect. However, you have missed the bathroom. It is not only you but so many people who do not design their bathroom with accessories. It is a pity since the bathroom is a great place for you to relax and release stressful feelings. There is a variety of funny bathroom art decor ideas shared on the internet and easy way to improve your bathroom with funny bathroom signs. And in this article, we select the most hilarious but creative and eye-catchy ideas for you to choose from.
Why is it important to decorate your bathroom?
People usually think of the living room, bedroom or kitchen when decorating a house. Of course, those spaces are where your family members spend time together the most, and where you find a private space at the end of the day. Moreover, guests who come to your house are usually sitting and joining different activities in the living room or kitchen. As a result, people often want to design those areas beautifully, impressively and show their personalities with unique elements. The bathroom and restroom are usually forgotten. However, the bathroom is undervalued in house design.
In fact, visitors are usually surprised by the bathroom rather than other spaces in your house. And it only happens if your bathroom flees from the strict functionality in conditions of limited available space. Moreover, a bathroom is a key room in your house. It services a fundamental hygienic function. However, it is also where you can relax perfectly when taking a bath or showering. Therefore, it is important to think of funny bathroom art decor ideas to make up your most relaxing space.
10 funny bathroom art decor ideas
There is a wide variety of ideas of funny bathroom art decor that are simple, creative and low-cost.
1. Get naked!
Bathroom canvas art needs something really special that drives you through surprise. This wall art will definitely make you laugh, and your guest too. It is a sensitive story but if you turn it in a hilarious way, it is impressive.
$64.95 And Up From Benicee Shop
$69.95 And Up From Benicee Shop
Get naked sign is not just a funny wall art but also makes your bathroom wall less empty. Additionally, simple neutral colours such as white, black and grey generate a harmonious look and chilling vibe. Get naked, everyone knows that bathing is naked, but it is not necessary if you just take a half bath. We all sometimes take a half bath, don't we? Because there is no shower!
2. Word puzzle
Internet and smartphone drive people a new habit, bringing with them a phone when…using the toilet. There is an effective method to leave your phone before going to the toilet. Hanging a word puzzle on the toilet wall, right in front of the water closet.
You Can See How To Print This Sign Free From Karacreates
It seems weird but funny for sure. You can spend time with some challenges, joy and wonders. If one is not enough, you can even have more. The great thing is that you can choose the design with paper inside the frame so that you can replace it when you get bored of the familiar words. It is time to change your habit and stay away from the internet.
2. Please remain seated
There must be no one moving why they are supposed to be seated. Therefore, this funny bathroom art decor idea is not a serious reminder. On the contrary, it is just a funny sign that you can bring laugh yourself and anyone uses your bathroom.
$64.95 And Up From Benicee Shop
$56.95 And Up From Benicee Shop
3. A friendly reminder
The angriest issue when using the toilet is running out of paper but no one cares. This funny bathroom art decor is a clever idea in this situation. This wall art appears to be a motivational sign about doing a good thing in the bathroom. However, it is simply a matter of changing the toilet paper if someone is using the last pieces of it.
$64.95 And Up From Benicee  Shop
This is another fun idea you can consider putting in your bathroom. A small sign printed "you never know what you have until it's gone. Toilet paper, for instance". A cute and hilarious reminder that can make people do it happily.
If you find it benefits anyone other than you, don't hesitate to put it in your bathroom in the effort to change the roll of toilet paper.
4. The best seat in the house
Have you ever wondered which one is the best seat in your house? In a meal, everybody has their own seats. The living room also has a long sofa that you do not need to fight for a seat. Your bedroom is a private space that you can sit down anywhere you want or set up your chair in any place you would like to do. However, there is always a seat you have to fight for if you want to use it, the toilet!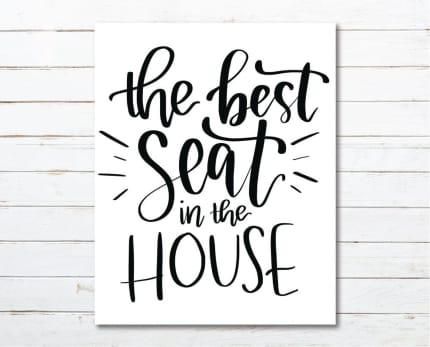 5. Save water, shower together
Of course, not everyone takes a bath with another. However, this sign is not purposing on what written on it. Just kidding! How can you bring more joy to this space? let's prepare some more funny quotes to hang on the wall. You will definitely laugh to die when reading this in your own bathroom. It is a great way to blow your sorrow away and get your energy back before stepping out of the bathroom.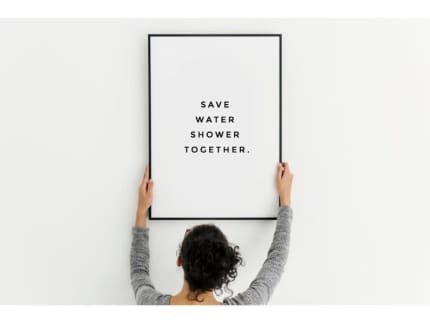 6. I know you are on your phone
Another funny bathroom art decor idea is related to toilet paper. It seems to be a hilarious but painful problem with the toilet. It is not always someone using the last pieces of toilet paper puts a new roll after that. Moreover, using a phone while being in the toilet is a common habit for modern people. Therefore, this is just a funny but helpful quote that you can consider to decorate your toilet.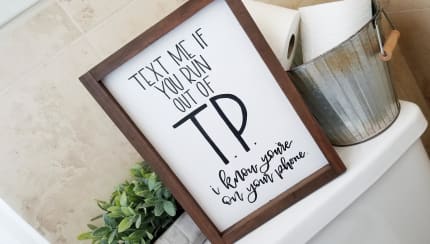 7. Do you enjoy it? Rate me!
When you use a service, the staff usually asks for a favor that is to give them a review. How about asking for a review for the bathroom? It's funny! It would be more impressive if you put the stars row with a funny sentence like this idea.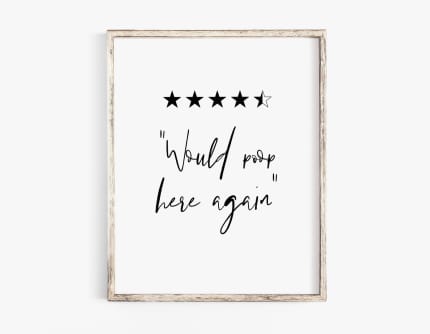 8. Do you enjoy it? Rate me!
Finally, there are always a ton many bathroom wall art decor ideas for your choice. But the most important point is to make everything in your bathroom matching and express your personality. You maybe not agree but the bathroom is one of best important of a house - where we can perform our song, wash our worries and refresh ourselves.

So the final bathroom decor art ideas that we want to recommend for you is  bathroom wall art from Benicee Shop. You can choose one with color and size to match with your bathroom decor in a bulk amazing design wall art canvases. We update new designs every day!
$61.95 and Up from  Benicee Shop. 
This cute bathroom sign is suitable for bathrooms with green tones and some white flower decor. In addition, these funny bathroom art will make a meaningful housewarming gifts for your friends, co-workers. 
RELATED: